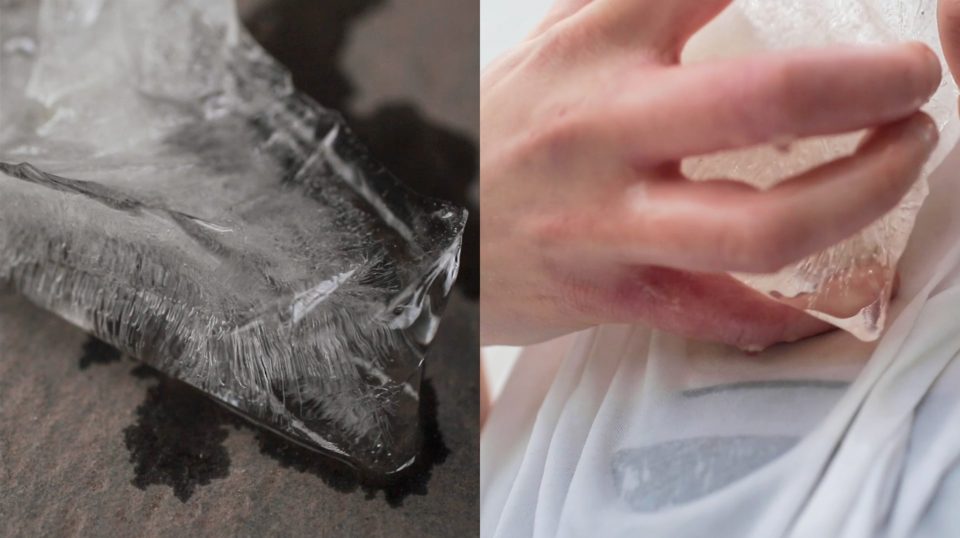 Coalescing and Dissolving
About the artwork
Coalescing and Dissolving explores a shifting environment of creative process and performance. Documenting the process and investigative performance of ice objects, shaped by plastic bags and tree limbs, we visualise the spaces between the human body and its contact with the environment. This interweaving movement between bodies and environments, practice and performance, reveals the ever-changing relationship that our practice operates in. 
This constant consideration of the environment reveals the mental weight of creating during climate distress, and provokes a re-examination of giving and taking throughout one's practice. With this transfer in mind, Coalescing and Dissolving considers if environmental degradation is a life long and inevitable collaboration. Placing process and performance side by side, we question when a movement becomes performance, when a relationship becomes a collaboration, and when the process becomes valuable. 
About the artists
Mara Schwerdtfeger is a sound artist and composer creating performed pieces, and commissioned soundtracks for dance, film, and installations. Her practice explores the crossover between physical and digital environments through the use of field recording and digital manipulation. She has been commissioned by SIGNAL, Avantwhatever Festival, Constellations Podcast, Open House and Mpavillion. Mara currently works with Liquid Architecture producing their podcast series. 
Zoe Baumgartner is a multidisciplinary designer and photographer, utilising an approach that highlights collaboration and mixing mediums. Her practise investigates human and non-human relationships, interactions, and reliances – exploring how they grow and develop, and why. Across Zoe's work she aims to visually represent ideas and projects. Employing the tools from both photography and design, Zoe's work strives to clarify and expand conversations surrounding visual communication.
---
Artist Interview
Tell us a bit about the process of making this piece
We have had the idea of using ice sculptures in some capacity in the back of our minds for a while and this seemed like the perfect context to push that idea into something bigger. 
We spent a long time brainstorming and waiting for the rain before we could start filming. Because the piece is as much a documentation of itself as well as a performance we had to constantly be thinking about how to frame our actions in the context of the film. 
How do ideas of sustainability intersect with your practice/works?
Mara: I have made a few works that use environmental sounds as the main source material and that question and change the perspective of the environments we occupy. I find it is hard to justify making work without considering the environment I am working in and resourcing from.
Zoe: Throughout the process of making a piece I find it beneficial to consider the lasting affect the work will have on the environments it has been created and left in. Good design is sustainable design. 
What role do you believe artists and creatives have in influencing positive societal change?
Making a work that isn't aggressive in its message but instead has the opportunity to connect to someone on a personal level is where I think creatives have the upper hand in influencing positive change. You can use subtlety to convey big messages.
What change would you like to see within your industry/community/scene?
It would be great to see people try and incorporate environmental considerations into all aspects of their practice and life, not just the final product.  
Do you have any 'green' tips for fellow artists?
Get creative with ways you can lessen your environmental impact. Consider your materials, and try to prioritise using what you already have access to. 
How would this calculator be helpful for you?
This calculator would give us the opportunity to understand the impact our practices have on the environment, revealing details that we possibly overlook. The ability to monitor our everyday operations as well as using the calculator to help make insightful decisions when undertaking and planning larger projects will lead to a more sustainable practice and knowledge that we are attempting to reduce our impact as much as possible.