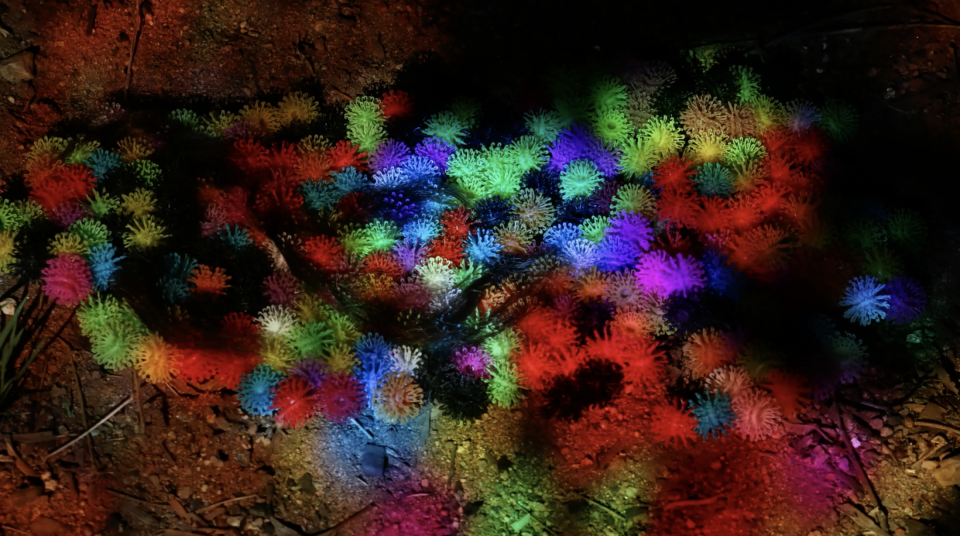 Mingle
About the artwork
This work explores human relationships with the objects they create, seeing these everyday but really very complex interactions as the crux of consumerism and its related environmental destructiveness. I am committed to thinking through and opening up space for new interactions as a way to shove a stick in the wheel of consumerism.
About the artist
Living and working in my new home of Alice Springs and surrounding communities I make process-based methodologically driven works. My work is always research-led and is site/context-specific. I use the mediums that best express the atmosphere and ideas I am thinking through or media that is most practical. I often gravitate towards time-based mediums like performance, moving image, intervention, writing and sound. At its core, my work is thoughts in the moment. A thinking through or investigation into things I want to understand in different ways.
---
Artist Interview
Tell us a bit about the process of making this piece
The video recounts the process of its own making and sticks fairly close to what actually happened. I wanted to make a really tactile work on a small scale as it is an intimate visceral experience of materials that slips below these more conscious ideas like consumerism. The work reflects my own struggle and change of opinion from seeing these objects as "plastic crap" to seeing these objects as valuable and beautiful. I am not arguing that we should produce any more of these kinds of materials but rather to be appreciative of these objects that already exist and not allow them to become waste. People blame objects like Bunchems and see them as waste but I think a more critical way to view these objects would be to see them as symptoms of deeper complex systems. I think we should try to shift our judgment from the symptoms to the cause. In the work I am not trying to tell people what to do. This isn't my job but I am trying to be attentive to human material relationships in the hope of opening up space to rethink them.   
How do ideas of sustainability intersect with your practice/works?
I think it is unavoidable. We all seem to realise that we can't go on for very much longer at this rate of consumption. It is constantly in the back of my mind, framing thoughts and experiences. I take a broad approach to sustainability and ecology. Fundamentally I see it as a question of how do we interact and communicate with our surroundings and each other. And what could be a more important question than that?  
Anna Bohlin in her work The Liveliness of Ordinary Objects: Living with Stuff in the Anthropocene sums up my attitude in Mingle to sustainability and consumption: "If we are to find alternatives to current scales of generating objects, and prevent further damage to the planet, we need to begin by focusing on the embodied and sensory practices of the everyday. Besides being significant in their own right – as sites of micropolitics – it is only through these that more abstract political principles and goals go from being mere ideas to being enacted… Without properly understanding affective dispositions and practices that are open to, and resonate with, the 'right' of things and materials to enter into caring and responsible human-thing entanglements, any calls for an end to wasteful consumerism will remain ineffective."
What role do you believe artists and creatives have in influencing positive societal change?
Through bringing richness, complexity and nuance to everything art can liberate the imagination and help us envision change, be that on a small personal scale or on the scale of a planetary system. The knowledge gained from the encounter with art is a special type of knowledge. I think art can offer a different system of value that is not based on extractionist capitalism but rather one that plays by its own rules.
I have learned through practice that you really never know in these complex systems how cause and effect will play out. The smallest action could have a disproportionately huge effect. Like the one spark that starts a bushfire. You can't measure in advance the effect of creative work.    
What change would you like to see within your industry/community/scene?
I think I would like to see less judging of one another and more banding together to try to work out these complex issues.  
Do you have any 'green' tips for fellow artists?
Keep an open mind. 
How would this calculator be helpful for you?
I think the calculator could be a great tool to make art with. It would be interesting because it encapsulates so many current ideas and really important things we as a society need to think through. A poetic use of this technology would give us important insights into these areas.